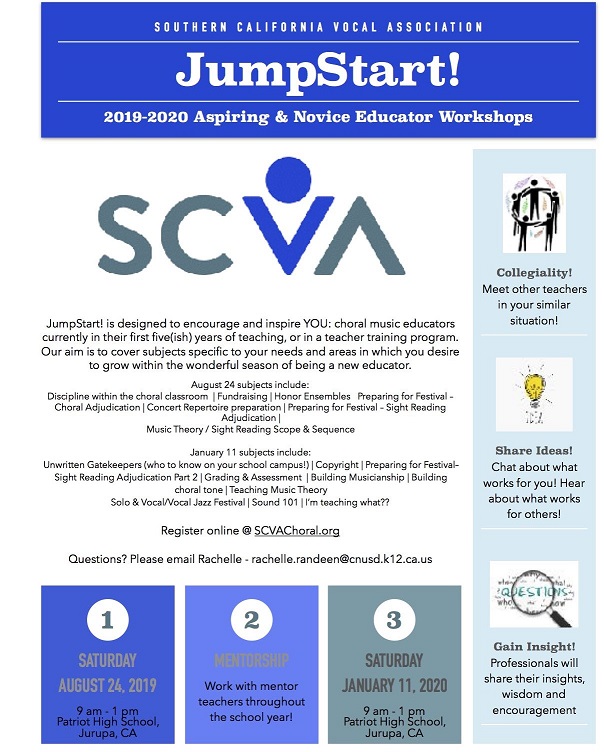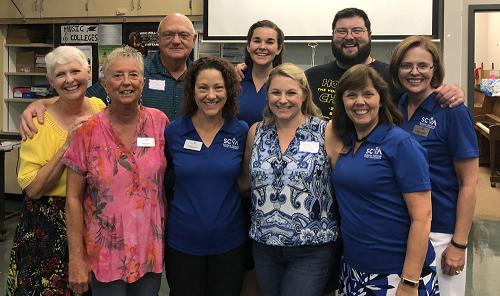 Event: JumpStart!
Dates:
August 25, 2018 -- Patriot High School, 4355 Camino Real, Jurupa Valley (9am to 1pm)
October 12, 2018 -- Placentia Presbyterian, 849 Bradford, Placentia (at the JumpStart! table during lunch at the SCVA Fall In-service)
Note: the "Meat-Up" event (3-5pm) has been cancelled.
January 19, 2019 - CANCELLED - stay tuned for next year's opportunities!

Description:
JumpStart! is designed to encourage and inspire YOU: choral music educators currently in their first five(ish) years of teaching, or in a teacher training program. Our aim is to cover subjects specific to your needs and areas in which you desire to grow within the wonderful season of being a new educator.
Subjects include:
Discipline within the choral classroom
Building allies (who to know!) on your school campus
Grading for the choral classroom
Assessment for the choral classroom
Copyright
BTSA for the choral director
Choral Festivals / Specialty Festivals / Honor Choirs / Repertoire
Choral / Vocal Tone Production for ensembles
Building musicianship for the choral classroom
Tips and tricks!
Pricing
SCVA Members - $20
College Students - $10
"Not yet" SCVA Members - $30

Questions? Please email Rachelle - rachelle.randeen@cnusd.k12.ca.us
Click here for a printable flyer.