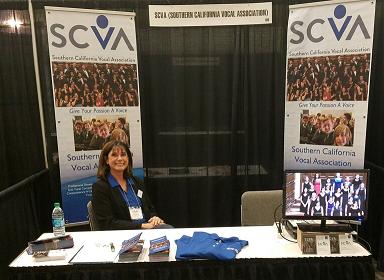 Membership Benefits
Members of SCVA receive three-fold benefits in the form of Quality Opportunities for Students, Professional Development, and Connection to the Choral Community in Southern California, all for an annual membership fee half the cost of most professional organizations!
According to the SCVA Bylaws Article IV, "The membership year shall be from July 1 to June 30." Therefore, all memberships expire every June 30th with the conclusion of the school year, regardless of when during the school year you may have paid your previous annual membership dues.
Membership July 1, 2023 through June 30, 2024
$50 Active Membership
$60 After September 30
$20 Retired Membership
Free Student Membership
Please use PayPal for paying your membership dues on-line or mail a School/Booster check payable to "SCVA" to:
Erika Jackson
RE: SCVA Membership
SCVA Membership
13052 Gershwin Way
Moreno Valley, CA 92555
Quality Opportunities for Students
Members are able to register their students to participate in the full range of outstanding SCVA events:
High School Honor Choir
Jr. High Honor Choir
High School Choral Festivals
Jr. High Choral Festivals
Vocal Solo Competition/Small Ensemble Festival
Show Choir Spectacular
Contemporary A Cappella/Vocal Jazz Festival
Close Harmony Festival
Professional Development
Fall In-Service
Newsletter PD Articles
New Teacher Inservice
Members-Only Website Resources
Connection to the Choral Community
E-Newsletters
Summer Chats
Volunteer Opportunities
Join now to ensure you and your students don't miss out on a year of excellent choral experiences!