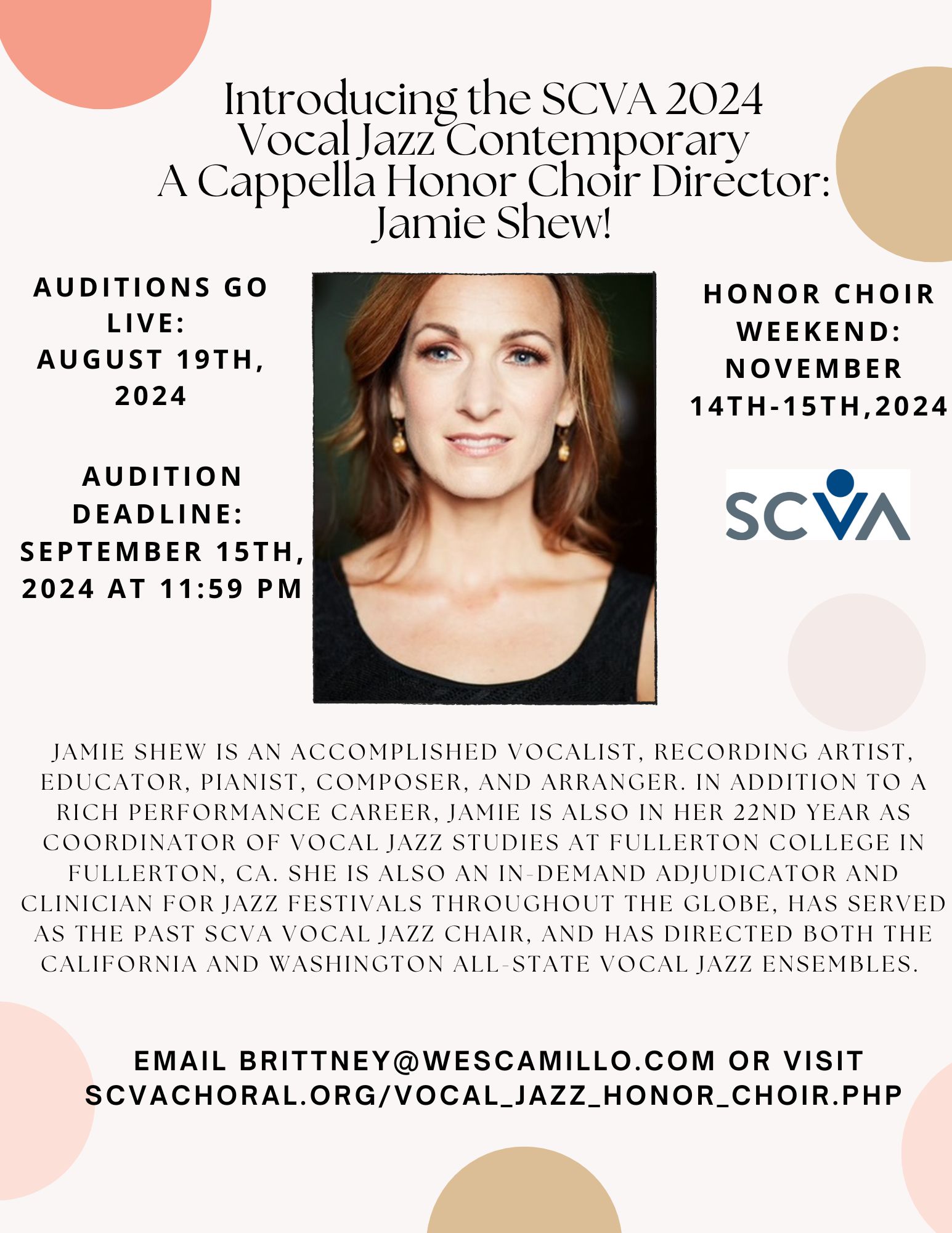 Event: SCVA Vocal Jazz Contemporary A Cappella Honor Choir
Directed by Jeremy Fox
University of Redlands Honor Choir Weekend
November 17-18, 2022
APPLICATION DEADLINE: Sunday, September 18th, 2022 at 11:59pm
12-16 students will be selected to perform at the Honor Choir Weekend on Friday November 18, 2022
Audition Online at https://docs.google.com/forms/d/1p3sSzXiC3-oUUJZQC8khfXp6gIXkYqrsB-H23i8neKw/edit
Online Audition includes:

Chromatic Scale (one octave, eighth notes at quarter = 120)
Blues Scale (one octave, eighth notes at quarter = 120)
Major Scale Both scales ascending and descending, your choice of syllables
Major triad followed by minor triad starting on middle C
One standard (or any song) sung a-cappella of your choice
"You Make Me Feel So Young (ms. 21-28 only)" (Sing the voice part a cappella for which you are auditioning)
Audio practice tracks: Soprano -- Alto-1 -- Alto-2 -- Tenor -- Bass
Optional track (walk a bass line or demonstrate vocal percussion)
Only on-line auditions will be accepted.
Costs
$10 Audition Fee online through SCVA
$90 Participation Fee for those accepted
See the Google Form Link above for instructions on submitting sound files.
Pay on-line on our e-Payments page.
Students can participate in the SCVA VJCA Honor Choir and also be eligible for CCDA All State Honor Choir. Selected students will rehearse together over the honor choir rehearsal dates of Thursday-Friday (November 17-18) in Redlands, CA and perform in an "Honor Choir Concert Performance" on November 18, 2022. Students must attend all two days of rehearsals leading up to the performance. Students are selected for one choir only: VJCA Choir or SATB, SSAA or TTBB Choir. If a student wants to be considered for any SCVA honor choir, as well as the VJCA Choir, they should sign up for the live honor choir auditions (registration begins mid-September and results will be posted by the live honor choir audition dates) for the following SATB, SSAA, or TTBB Choirs.
IMPORTANT: Your school music director must be a member of SCVA in order for you to participate in the Southern California VJCA Honor Choir. For more information, please go to the Membership page.
Questions? Please email Sara Logsdon at: saralogsdon12@gmail.com